Keeping time has been a priority of the human race for thousands of years. The first timekeepers kept time with the movement of the sun. Throughout human history, timekeepers have developed from an essential home utility to an expression of luxury and beauty. From elaborate floor clocks to the silent but powerful pocket watch, the evolution of the timepiece has enchanted collectors for generations
ZeTime: hybrid smartwatch with hands over screen
It's the world's first smartwatch with mechanical hands and over a full round colour touchscreen. A blend of classical design with advanced features of a smartwatch. It's mechanical hands can function upto 30 days with a single charge.
It's hands won't disturb in reading e-mail's or messages as we can ask them to move away from the text area to elegantly separate the screen in two horizontally.
Auto Sync time according to the Time Zone.
Round Colour touchscreen
Stainless Steel watchcase
Mechanical hands
Sapphire Glass
Smart Crown
Optical heart-rate sensor
Water Resistance
Interchangeable Watch Band
Notifications
Heart Rate Monitor
Activity & Sleep
Daily Assistant
Remote Control
Fashion Accessory
Francois Borgel – Luxury Swiss Made Watches
130th Anniversary Signature Collection. "Precision in Excellence since 1887"
Mont Dolent Series
Stellihorn Chronograph Series
Nautique Chronograph Series
Pilotage Chronograph Series
Officer Automatic Series
Grand Combin Automatic Series
Alphubel Automatic Valjoux Series
MATRIX Power Watch
The world's first smartwatch that you never have to charge as it is Powered by your body heat, it measures calories burned, activity level, and sleep using our advanced thermoelectric technology. It is the only smartwatch to feature a power meter which displays how much electrical power you are generating.
Features
Never Recharge
Accurate Calorie Count
Versatility – Wirelessly syncs with your smartphone, automatically adjusts to the current time zone and has
changeable watch faces. Tracks Activity, Sleep and is Water resistant upto 50m.
Syncs with iOS and Android Apps
Colton James Watch – Premium Minimal timepieces
Watches made within the constraints of quality, design, personalization, and affordability.

We provide a solution by offering an extensive and diverse variety of fully interchangeable straps, allowing you to switch your look with ease, in no time at all. Having one watch with the three different types of band we offer gives you three unique styles – a more classic look with Italian leather, stainless-steel mesh for high-class and nylon for the casual summer style.  coltonjameswatch.com/watch-builder/
Watches Collections
Chronovisor Timepiece
A groundbreaking watch with unique design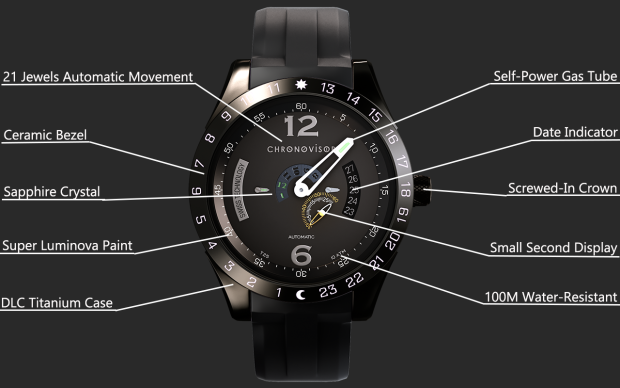 The combination of traditional craftsmanship and advanced technology, a crossover of modern and antiquated times – Chronovisor, a horological art of pioneering spirit is born.
Advanced Technology – Equipped with self-powered gas tubes which enable the night vision ability even in space.
Aesthetic Design – A fusion of motion colour and quality
Exquisite Craftsmanship – Matching with precision instruments by experienced professionals. The sophistication of quality, originality, and wisdom.
These are the few timepieces which are the combination from Old School Craftsmanship to the latest embedded Wearable. The choice is yours on how the legacy is passed on to the next generation.